Automha Shuttle
A semi-automated machine designed for multi-depth pallet storage, ideal for all sectors of industry, suitable for all brands of rack.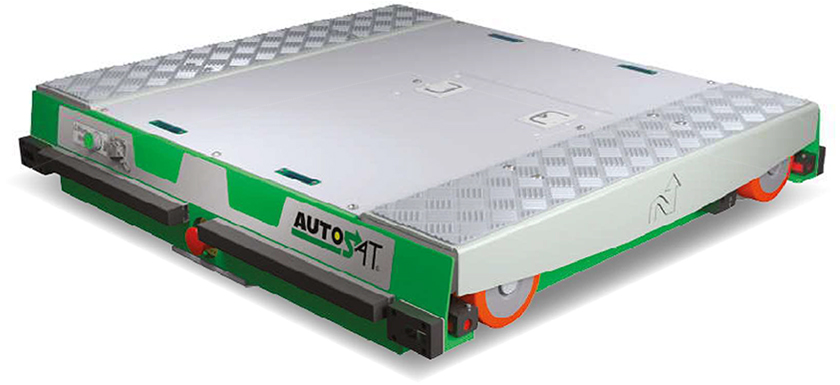 AUTOSAT is the semi-automated shuttle created and designed by AUTOMHA for intense multi-depth pallet storage.
The satellite operates in traditional drive-in lanes and guarantees the highest levels of efficiency in situations requiring repeated filling/emptying of shelves. The satellite is equipped with a special removable Lithium battery and is controlled by a simple multi-function radio controller with a multi-lingual LED display
By moving autonomously within the lanes, AUTOSAT can be easily moved between various levels and shelves by a standard fork-lift truck as it picks, stows and re-orders the pallets in the storage lanes according to FIFO (first in - first out) or LIFO (last in - last out) mode.
The use of this satellite allows for the use of the entire volume of the warehouse, cutting handling times for storage and picking manoeuvres in half, and improving safety levels for the personnel present in the warehouse.
AUTOSAT is suitable for the storage of all types of pallet and loading units and can be used in all industrial sectors: it guarantees excellent performance in extremely low or high temperatures. (-30 C°/+ 55 C°).
AUTOSAT is technology which was first patented by ATOMHA,andissoldin theUSAandCANADAunderthe PALLET RUNNER brand
Warehouses equipped with AUTOSAT technology can be managed by the special LOG software, which manages and processes data regarding the inbound and outbound handling of Loading Units in manual or semi-automated warehouses.
STANDARD
AUTOSAT
On-board Battery
Battery charger (220/110 Vdc)
Multi-lingual radio controller
Battery charger for radio controller (220/110 Vdc)
Instruction manual
OPTIONAL
Increased load capacity (2000 kg)
Spare parts
Drip protection
Transportation
Transport
Installation & Training
Marine transportation protection
Forklift locking system (anchoring between shuttle and forklift truck)
Rapid AUTOSAT coupling (emergency system for the retrieval of broken-down units)
Magnetic safety plates (increases the stability of the satellite when on the forklift truck)
PLS SICK Kit (speed control in the case of obstacles detected in the lane)
Autoservice (manual security shuttle to recover broken-down machines or for in-lane maintenance)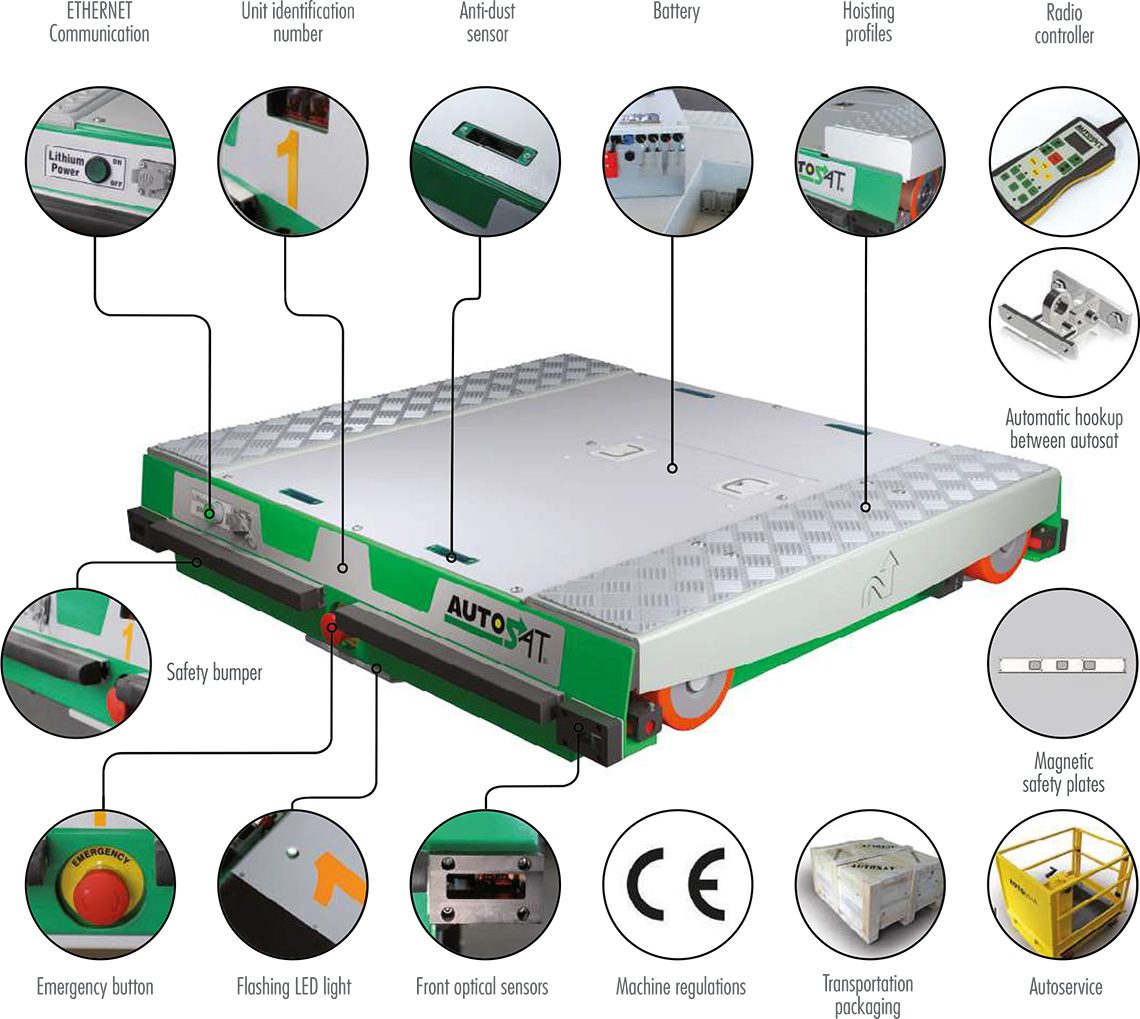 INNOVATIVE ORDER FULLFILLMENT SOLUTIONS FOR E-COMMERCE AND DISTRIBUTION CENTERS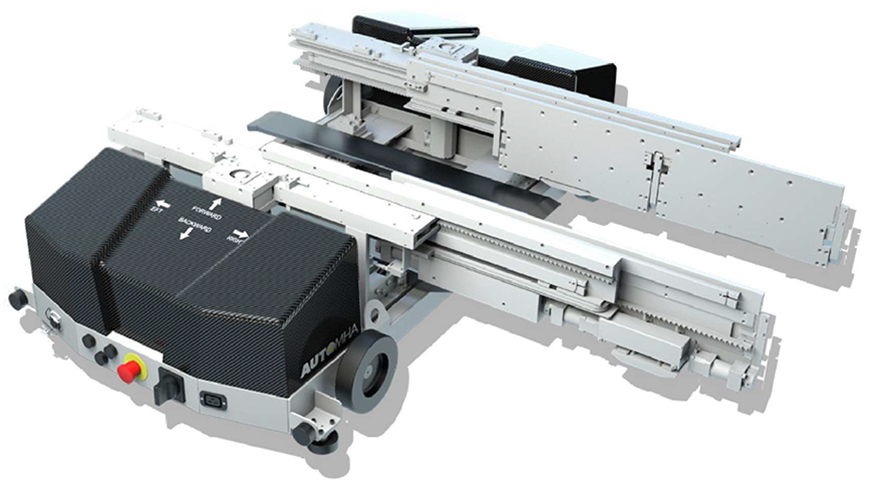 Peakmover is the latest technology entering Automha's warehouse solutions landscape.
With Peakmover, Automha focus its target in the handling and automatic storage of boxes, thus also conquering the e-commerce market.
Peakmover solution meets the needs of every customer who need fast deliveries, faced with a variety of storage units, typical issues of e-commerce and omnichannel sales methods that are gaining more and more market shares.
Peakmover seamlessly integrates innovative systems, intelligent software and state-of-the-art technologies that ensure optimal performance at low maintenance costs.
Peakmover guarantees fast and organized handling inside the automated warehouse, facilitating the operations of reception and shipment of
goods and applies to all sectors that need to store and manage boxes with a high flow in and out, up to -30° C.
Peakmover is the valuable ally of all the realities that aim to be competitive in customer service.
Fast, punctual, performing and innovative from a constructive and technological point of view.
The same features as the STANDARD model but bigger in size, performance and load capacity.
TECHNICAL FEATURES
min box size 250x250 mm
max box size 1200x800 mm
load 50 kg
3 telescopic forks, stroke up to 1500 mm
automapping
powered by the supercapacitor
reload time in 4 seconds
data exchange in WiFi and Bluetooth
maximum speed 200 m/min acceleration 2 m/s2
antistatic wheels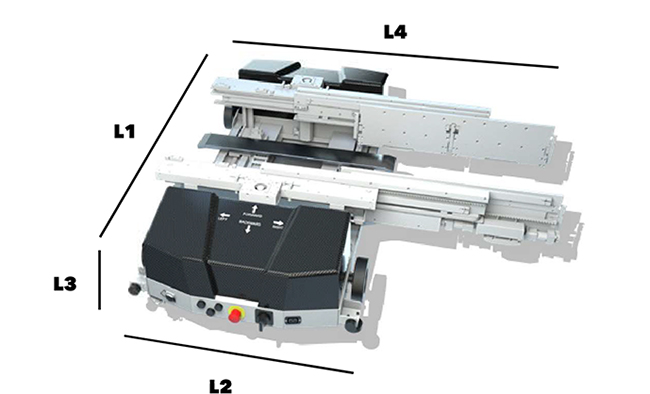 APPLICATIONS
storage and collection of goods in sequence
orders fulfillment
manual picking
· pick to light
· put to light
robotic picking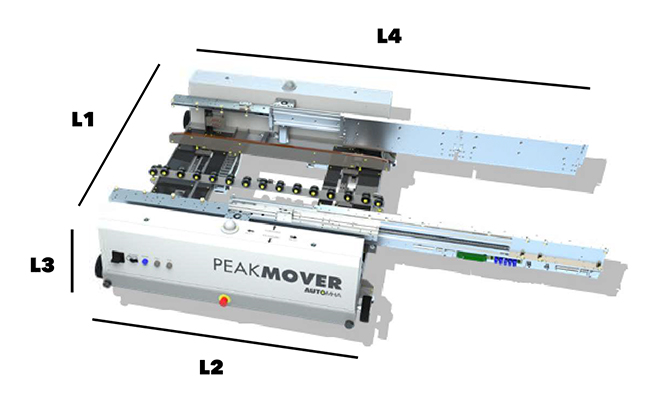 The fully-automated satellite, usable with AUTOSATMOVER mother vehicles or stacker cranes,
for multi-depth intensive storage of pallets in all industrial sectors.
Battery-free, supercapacitor powered.
Charges from the mother vehicle in just 7 seconds.

MODELS
STANDARD
Equipped with a supercapacitor, it automatically recharges every time it is on board the mother vehicle in a maximum of 7 seconds. It is loaded on a mother satellite (AUTOSATMOVER) which transports it to the storage lane for the carrying out of its missions. It is capable of handling any type of pallet, and maintains constant operational levels from -30°C to +55°C.
NEVER DIE
As well as supercapacitor technology, this model is also equipped with an additional 20 Ah lithium battery, which is essential in FIFO logic systems which require operations of compacting and re-organising of storage lanes.
ON BOARD AUTOSATMOVER
The most common use of SUPERCAP is on board an AUTOSATMOVER mother satellite. On board the mother vehicle the satellite recharges its supercapacitor in 7 SECONDS and prepares to carry out its missions in the storage lanes. The STANDARD, BACKUP ROAMING and NEVER DIE models can be used for this system.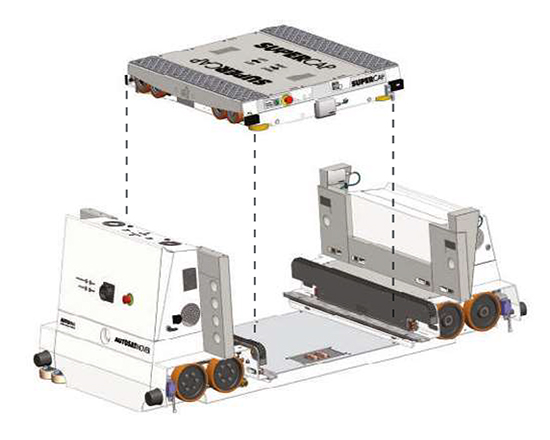 ON BOARD STACKER CRANE
SUPERCAP can, however, also be loaded onto a stacker crane, thus allowing for multi-depth storage. The satellite charges in 7 seconds when loaded onto the cradle. The BACKUP CAPTIVE, BACKUP ROAMING and NEVER DIE models can be used for this system.